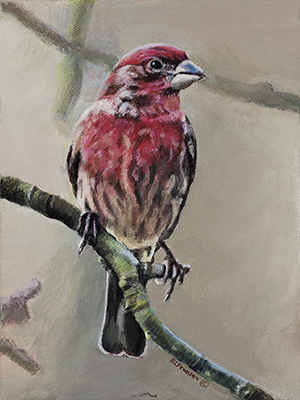 To celebrate Christmas and my new website, I'm giving away a matted & framed 8 x 10 mini print of my Purple Finch painting( a $65.00 value). Here's how it works:
I'll be starting up a newsletter in January that will keep people informed about new work, upcoming shows and other interesting things. If you'll simply sign up for the mailing list by providing your email address in the form below, you'll be automatically entered in the drawing. One email address will be randomly chosen on December 25th as the winner of the framed print and everyone who enters will be added to my newsletter mailing list.
I promise not to give away or sell your email address to anyone and I also promise not to flood your inbox with useless messages. You can opt out at an time by simply sending an email to lynette@ruthsimages.com asking to have your address removed.
I hope you'll consider signing up. Wishing you a very Merry Christmas and many blessings in the New Year- Lynette
(Click the image on the left to go to the detail page for the painting.)
Sign up using the form below: