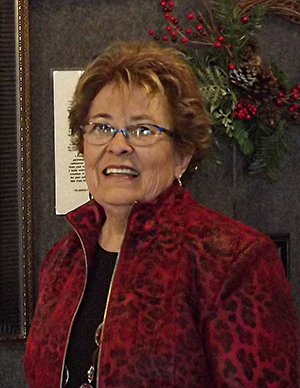 Lynette Fransen was born and raised in eastern South Dakota. Her mother died when she was young and her father raised their four children alone. Her flair for drawing and painting began in grade school. A teacher's appreciation and encouragement set the stage for what was to come years down the road.
Lynette's passion for life, people, relationships and her love for the Lord have been her inspiration. After her father's death in 1992 with Alzheimer's, she felt motivated to begin her publishing company, Ruth's Images. She dedicated this company to her parents' memory. It seemed quite fitting to name her "art" company Ruth's Images because her mother's name was Ruth Imogene and her father's name was Art Daly.
Lynette is a self-taught artist. Realism in her paintings is what she strives for. Her favorite mediums are acrylic and pastel. Painting pictures of dogs – "Man's Best Friend" – has always been her favorite; she has the ability to capture their unique personality and that special look of an animal friend. It has earned her many prestigious awards such as: Wyoming Ducks Unlimited Artist of the Year; winning second place in the Iowa Ducks Unlimited contest. Her painting, Tall Tales, was then chosen to be Iowa's Ducks Unlimited National Print Series #1 and was included in their state package for 2005-2006. Lynette's work has been included several times in the Wyoming Ducks Unlimited state package as well as Wisconsin's state package. Artisans, the exclusive clothier for Ducks Unlimited, has selected several of Lynette's paintings for their clothing lines. She has been the Featured Artist for organizations such as South Dakota Farmers Union and the Nile Stock Show & Rodeo in Billings, MT. In 2011 and again in 2014, Lynette won the Grand Prize at the Petroleum Club Art contest in Casper, WY.
In recent years Lynette has expanded her art line to include painting wildlife: bison, elk, deer, grizzly & black bear, antelope, moose, and Bighorn Sheep. These paintings are especially appealing to many audiences, but particularly those visiting Yellowstone National Park. She has previously shown her work in Yellowstone as a Guest Artist at the Old Faithful Inn and has been the Artist in Residence at Lake Hotel several times in the past years. Lynette again has had the opportunity to display her work in Yellowstone National Park with shows at the Delaware North General Stores the past two summers. In August 2016 Lynette exhibited her work in the beautiful Custer State Park. Most recently she has introduced the Western tradition of painting horses. One of these paintings entitled, Close Up, was chosen for the Wyoming Governor's Capitol Art Exhibition 2016.
Lynette enjoys creativity in both her work and choosing each painting's title. She enjoys the painting even more when there is a clever title attached to it. You will see this for yourself as you browse her web site and see paintings such as Lab-ratory, Mask-er-raid and Roll Call.
Many of her Limited-Edition prints are displayed and available at Sportsman's Warehouse in Casper as well as galleries and businesses around the country.
Lynette is the mother of three grown sons: Dan, Brian and Riley. She is now enjoying the additional blessings of daughters-in-law and grandchildren. She resides in Casper, Wyoming with her husband Larry. She is active in her community and in supporting various charities. Lynette has worked extensively with the Central Wyoming Rescue Mission by providing original paintings for fundraising purposes. Her work can be seen on her web site www.ruthsimages.com.