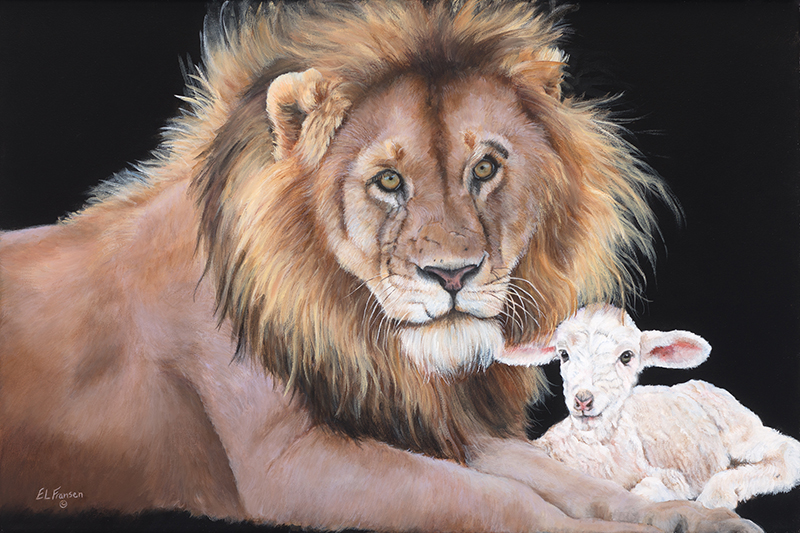 His Kingship & His Sacrifice
Medium: Acrylic
I have been inspired to do a painting of the Lion & Lamb for the past several years.
I searched for just the right photograph to work from of the majestic Lion and the sweet baby Lamb. I finally found them. I looked up many passages to find out more about the Lion & Lamb. The true passage of the "Lion & Lamb is found in the Book of Revelation 5:5-6. "Then one of the elders said to me, "Do not weep! See, the Lion of the tribe of Judah, the Root of David, has triumphed. He is able to open the scroll and its seven seals." Then I saw a Lamb, looking as if it had been slain, standing in the center of the throne, encircled by the four living creatures and elders. He had seven horns and seven eyes, which are the seven spirits of God sent out into all the earth.
Both the mighty Lion and sacrificial Lamb refer to Jesus Christ. He is both the conquering Lion of the tribe of Judah and the Lamb who was slain. Two aspects of the nature of my Christ. The courageous Lion depicts the kingship of the God I serve. The God that loves me endlessly. The Lamb depicts the perfect and ultimate sacrifice for my sins. The good news of the gospel is so clearly declared in 1 Peter 1:18-21: "For you know that it was not with perishable things such as silver or gold that you were redeemed from the empty way of life handed down to you from your forefathers, but with the precious blood of Christ, a lamb without blemish or defect. He was chosen before the creation of the world, but was revealed in these last times for your sake. Through him you believe in God, who raised him from the dead and glorified him, and so your faith and hope are in God."
This painting is about God's love for us and how we are to spread His love throughout our time here on earth.
May God bless you.
Lynette
Limited Edition of 92 Image Size: 20″W x 13.33″H Giclee Print on Canvas $277.00
9 Artist Proof Image Size: 20″W x 13.33″H Giclee Print on Canvas $347.00